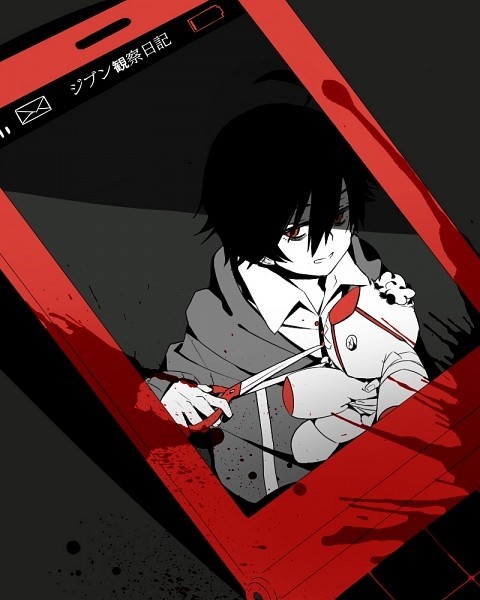 Friends... Garrett never had them. At some points he didn't want them. School was sometimes much easier without having to worry about other people. Sometimes weird things happen though and he meets two different people. Both from different sides of things. Skye is the more popular kind of kid in school. So Garrett was surprised that he was befriended by him. Yet he was excited too. Not because he was moving up in social status, but because he was able to finally have someone that he could talk with. Even if he denied ever wanting friends he was always lying. He found that friends made his life easier. He was abused a lot at home and having someone that wasn't going to treat him badly always made life a bit easier for him. He also befriended a girl too. The girl's name was Vivia. At first the friendship was more one sided than anything. Garrett would chat with her and all that, but Vivia would just kind of ignore him. She kind of figured that he was like all the other boys in school. She didn't like being chatted up just so a guy could get what he wanted. However as time goes on she and Garrett do become good friends. She found out that Garrett is nothing like the others. However they befriend one another a little too late.
Even though Garrett thought he was close to Skye... He was wrong. Well Garrett was close to Skye, but Skye really wasn't that close to Garrett. Really Skye had been stringing the boy along. His friends thought it was hilarious. The boy's heart would be broken if he found this out though. Garrett wouldn't find out until almost close to the end of the year that Skye hadn't really cared about him. During a particularly bad day Skye's friends gathered around Garrett. Apparently they had been talking about doing this for awhile. These people that Skye had promised wouldn't touch Garrett attacked the young boy. Skye didn't participate, but he didn't stop it from happening either. So when the group took the boy somewhere else Skye simply turned his head and went to school like nothing happened. What he didn't expect to hear was the boy being found dead the next morning. With bad news about the boy being spread around the school no one knows what to think. Vivia is hurt by it, but other than that there is nothing else she can do. It may seem cold but really they hadn't been as close as most friends. She was just kind of coming out of her shell to him and then he kind of died. Things like this happened all the time.
Several days passed after the brutal murder of the boy. No one knows what happened to him. No one can find the murderers. Even though Skye knows his friends were the last ones to see the boy he keeps his mouth shut. Vivia hadn't even seen him the day he went missing, but she did see Skye's group of friends at the abandoned house that the police had found Garrett's body in. Vivia thinks nothing of it. Skye's friends were stupid so she was sure they hadn't been the ones to murder the boy. A few more days pass and suddenly Vivia and Skye start getting text messages from Garrett's phone. Each message is cryptic and cold. Apparently whoever has his phone is trying to make them feel bad about his murder. Vivia doesn't think this is very nice. Tormenting the boy's friends. Whoever was doing this she gave a piece of her mind. Yet it doesn't seem like it works. Her and Skye finally share with one another that they are getting messages from Garrett's phone. First they talk to the police. Turns out the phone was stolen from the evidence locker. Finally the messages get to be too much. Skye and Vivia decide that together they will find this person and give them a piece of their mind. When demanding where this person was they get an answer. He's at the abandoned house and waiting for them. Without fear they go there. They have no idea what they are in for.
Once in the house everything locks down. It appears they aren't going to be able to escape. Whoever had Garrett's phone was very angry and they wanted answers, but so far it appears no one is around... Until they get one more text. A text that will make them regret not reporting what they had saw the other day.
'I am behind you...'